ANODIZING SERVICES [MIL-A-8625]: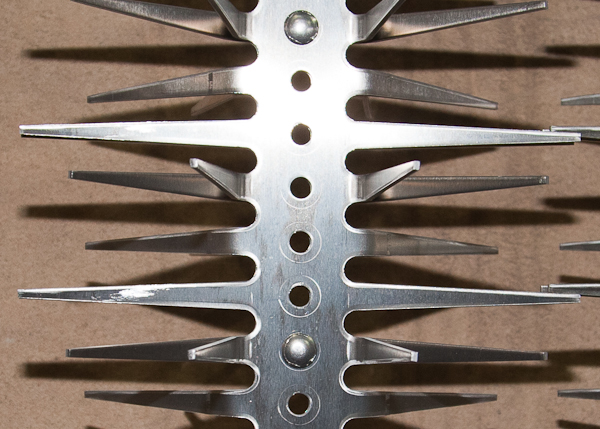 Anodizing is the process of building an anodic coating on an aluminum part. Anodizing oxidizes the surface of the part and creates an aluminum oxide coating (aluminum oxide is the main compound in ceramic) creating a surface that is harder than the aluminum itself.
TYPE II
This is done by placing the parts into a solution of sulfuric acid and water. Then we apply a current to the bath to build up this coating. The coating penetrates the surface of the part and builds on top of the surface to form this anodic coating. The anodic coating total thickness is half penetration and half surface build. This porous coating can be dyed in a wide variety of colors, which are sealed on to the part with a nickel acetate seal. The coating thickness is .0003" for clear anodizing and .0006" for colored anodizing.
Type II anodizing is primarily for cosmetic purposes.
Stock Colors:
Please note: Colors shown here are intended for informational reference only, not to represent finished production color samples. Colors displayed here are highly dependent on variables such as your monitor color calibration and settings.
Click any photo to enlarge
TYPE III [Hard Coat Anodizing]:
Hard coat anodizing is similar to Type II anodizing but the coating is much thicker. The coating thickness for hard coat is .002". This coating is very durable and is used where high abrasion resistance is required (such as wear surfaces). The color of clear hard coat is a dark gray color. We can then dye it black. This process requires 2 – 3 times as much current than type II anodizing. The sealing of the colored part is done with the nickel acetate seal as well.
Type III Hard Coat Anodizing is a functional coating for wear resistance.
Stock Colors:
Clear and Black.